OUR PICK IS READY FOR MONDAY 03/20/2023

WE HAVE A PICK FOR THIS GAME

TIME

NOW AVAILABLE
Football Picks - Basketball Picks - Baseball Picks



*** RECENT PERFORMANCE ***
1-0 (100%) SATURDAY
1-0 (100%) THURSDAY
1-0 (100%) TUESDAY
1-0 (100%) MONDAY
1-0 (100%) SATURDAY
Welcome to Capper Advantage!
Here you will find our hot releases for NFL, College Football, NBA, College Basketball, and MLB Baseball! You will get ONE (1) to THREE (3) Top Quality Plays Per Day. We know what's moving, when to get in and when to get out. What you won't find here are claims about unachievable winning percentages and "locks of a lifetime". Capper Advantage delivers real winners day in and day out based on having Important Contacts in the Industry, hard work and time spent studying the numbers. We cover all major sports and have packages available at affordable prices!
Our subscription packages are very affordable and will help you to finally start making real money in the sports betting business. We do all the number crunching - all you have to do is win.
It is our goal to supply a service to our clients that takes all of the work and worry away and allows he or she to have a life, make some serious money and enjoy sports betting the way it should be enjoyed. We believe in one-on-one service with one goal in mind: Making you Money. Using Capper Advantage is like having your own personal stock broker, only our area of expertise is Sports Handicapping.
Our picks are available early in the morning so this gives you the convenience to get the best lines before they make their big moves. Plus you get EVERY pick in EVERY sport for any access plan you purchase.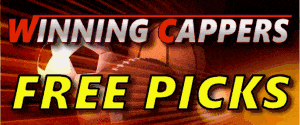 START WINNING TONIGHT
START WINNING TONIGHT
30-Days All Access

---

All Access to our members area and all our sports picks in every sport for the next 30 days. All picks are emailed out daily as well. INSTANT ACCESS

$57.00
All Access 365 Days (1 Full Year)

---

All Access to our members area and all our sports picks in every sport including NFL, NCAAF, NBA, NCAAB and MLB Baseball for 1 Whole Year 365 Days. All picks are emailed out daily as well. INSTANT ACCESS

$207.00